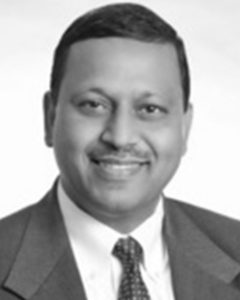 Dr. Bhoomi Mehrotra
Bhoomi Mehrotra, MD was born in a military family in Mhow, Madhya Pradesh, India. After studying in thirteen schools as his parents were transferred across the country, he graduated high school from Delhi Public School, Mathura Road, New Delhi. As a National Merit Scholar, he graduated from Maulana Azad Medical College, University of Delhi in 1984. He was a post doctoral fellow at the Brain Tumor Research Center and Radiation  Oncology Research Laboratory at the University of California, San Francisco (UCSF) prior to entering his Residency training in Internal Medicine at the Long Island Jewish Medical Center, NY. He returned to UCSF to complete his fellowship training in Hematology, Medical Oncology and Bone Marrow Transplantation.
He is currently the founding Director of the Cancer Institute and Director of Medical Oncology at St. Francis hospital, The Heart Center, Roslyn, and the Co-Chairman of Oncology Services for the Catholic Health Services of Long Island. He is a member of several academic societies including the American Society of Clinical Oncology (ASCO) and the American Society of Hematology. He serves on the Editorial Board of ASCO University and is actively engaged in the Maintenance of Certification educational modules for his professional society. He has authored over eighty abstracts, papers, book chapters and reviews which have been presented at major conferences nationally and internationally. He routinely gives educational sessions at professional society conferences and also serves on the Executive Council of the NY Head and Neck Society. His primary interest is in the multi-disciplinary management of
solid tumors and to this end has remained an active investigator for institutional and multi-center clinical trials for over twenty years. He has been named consistently as a 'Best Doctor' and 'Top Doctor' by numerous publications including Castle Connolly, New Yorker magazine and Newsday for several years.
Dr. Mehrotra credits his professional achievements to his long time colleagues including Dr. Dilip Patel and Dr. Rajasree Roy and pays special tribute to his lifelong mentor, Dr. Kanti R. Rai, a former honoree of this organization. He credits his ability to function at any and every level to his wife, Dr. Deepti Mehrotra, a Pediatrician, and acknowledges his children, Devi and Arjun, for their unconditional love, inspiration and support. He thanks his parents Shanker and Krishna and his parents' in-law Satish and Santosh Ahuja for their blessings and constant guidance in becoming a better human being.
Dr. Mehrotra is humbled and privileged to be in the company of his fellow honorees and
wishes them and the organization 'AAPI-QLI' continued success.