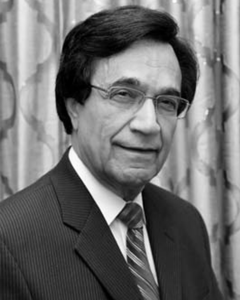 Dr. Jagan Pahuja
Dr. Jagan Pahuja is a dedicated and highly regarded physician who was recently recognized by the Medical Society of the State of New York for his 50 years of devoted service to the public in the practice of medicine.
From his humble beginnings as one of 10 siblings, born in Multan, India, (a region that is now Pakistan), his career spans 3 continents, 5 decades and a penchant for service not only in medicine but also in professional, social and community organizations – many of which also support medical and/or charitable endeavors.
He graduated from Medical College Amritsar, Punjab, India and was then able to indulge his passion for travel by working as a physician in the Indian Railways. Then, when the opportunity presented itself for higher studies (and further travel) outside of India, Dr. Pahuja moved, with his wife and young daughter, to England, working in Bristol, Dartford, and Aylesbury. Then, in 1970, when the opportunity to further explore the world came his way, he immigrated to the US and made New York his home.
Dr. Pahuja is Board Certified in Pediatrics and Pediatric Endocrinology. He is a fellow of the American Academy of Pediatrics and also a member of several other professional societies and organizations. In addition, he is an Assistant Professor of Clinical Pediatrics at SUNY Stony Brook Health Sciences Center in Stony Brook, NY. His literary accomplishments include articles in peer reviewed journals, as well as contributions published in a pediatric endocrinology case studies book.
In addition to the practice of Medicine, Dr. Pahuja has been actively involved in many professional, charitable and community organizations including both regional chapters and national AAPI (American Association of Physicians of Indian Origin), IALI (India Association of Long Island), AMDAANA (Amritsar Medical and Dental Alumni Association of North America), the Nargis Dutt Memorial Foundation, AIA (Association of Indians in America, New York Chapter), and
IPS (International Punjabi Society, New York Chapter).
He has been associated with the IALI since its inception in 1979 and had the honor to serve as its President for 2 terms in 1987 and 1988. He has also been the President of AMDAANA and has been serving as the Chairperson of its socio-cultural committee for the last 36 years. In recognition of his outstanding services, achievements and contributions, he was honored with 'Hind Rattan Award' in 2002 by the International Congress of NRIs in New Delhi, India.
Dr. Pahuja has a long history with AAPI and has served on the Board of Trustees of the National AAPI Charitable Foundation and in many committees of the National AAPI in various capacities over the last 28 years. He has also served as the Regional Director of the Mid-Atlantic Region of National AAPI and as the President of the Federation of AAPI of Greater NY/NJ/PA. In particular, he has been associated with AAPI of Queens and Long Island (QLI) since its inception in 1995 and had the honor to serve as its President in 2000 and as Chair of the Board of Trustees of AAPI of QLI. Dr. Pahuja continues his commitment to the AAPI of QLI organization as a member of Board of Trustees.
In his free time, Dr. Pahuja enjoys traveling, gardening, catching up on cricket, learning to navigate
the internet and spending quality time with his lovely wife Asha, daughter Shalini, son Sameer,
daughter-in-law Namrata, and grandchildren Karishma and Karan.