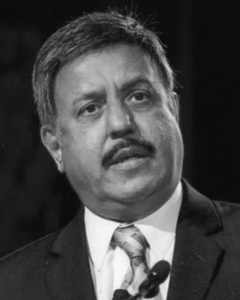 Dr. Ramanathan Raju
Ramanathan (Ram) Raju, MD, MBA, FACS, FACHE is the President and Chief Executive Officer of the New York City Health and Hospitals Corporation (HHC), the largest municipal healthcare system in the nation. Dr. Raju was appointed by New York City Mayor Bill de Blasio in January 2014 to lead the 37,000 employees of this $7 billion corporation, which includes 11 acute care hospitals, five nursing homes, six large diagnostic and treatment centers, more than 70 community-based health centers, a large home care agency, and one of the New York area's largest providers of government-sponsored health insurance, MetroPlus Health Plan, the plan of choice for nearly half a million New Yorkers. Last year, HHC facilities served 1.4 million New Yorkers — including more than 475,000 uninsured.
Prior to accepting the role of President and CEO at HHC, Dr. Raju was the Chief Executive Officer for the Cook County Health & Hospitals System (CCHHS) in Chicago, Illinois. CCHHS is the third largest public health system in the country, overseeing a comprehensive, integrated system of healthcare, comprised of two hospitals; a regional
outpatient center; a correctional healthcare facility; an outpatient infectious disease center specializing in the treatment of HIV/AIDS; 16 community clinics and a nationally accredited public health department. During his tenure there, Dr. Raju obtained federal approval for a Section 1115 Medicaid Waiver permitting CCHHS to "early enroll" under the ACA Medicaid expansion, reduced the structural deficit by more than $200M, and gained meaningful designation throughout the health system.
Dr. Raju began his medical career in the United States at Lutheran Medical Center in Brooklyn and went on to serve as the COO and Medical Director at HHC's Coney Island Hospital. Then in 2006, he became the HHC Chief Medical Officer, Corporate Chief Operating Officer and Executive Vice President. While he served there, HHC continued to climb and reach great heights in quality, patient safety and healthcare data transparency. He was also an integral part of the team that embarked, in 2010, on the HHC restructuring and cost containment plan.
Dr. Raju attended Madras Medical College to earn his medical diploma and his Master of Surgery degree. He underwent further training in England and was elected as a Fellow of the Royal College of Surgeons. Dr. Raju is also a physician executive, having obtained an MBA from the University of Tennessee and CPE from the American College of Physician Executives.
Dr. Raju is the recipient of numerous national recognitions, including being named to lists of the 100 Most Influential Healthcare Leaders in 2014, the 50 most influential Physician Executives in Healthcare in 2013, 2014, and 2015. Top 25 Minority Executives in Health care for 2012 and 2014, all by Modern Healthcare, and Becker's top 25 Health care executives to follow in Twitter.
He serves on Boards of Directors, including the American Hospital Association, America's Essential Hospitals (formerly the National Association of Public Hospitals), the Greater New York Hospital Association, and the Healthcare Association of New York State.
A longtime resident of Staten Island, Dr. Raju and his wife, a physician, and have two children.