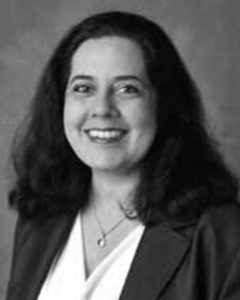 Dr. Suhana Chandrasekhar
Dr. Chandrasekhar was elected by the membership of the American Academy of Otolaryngology-Head and Neck Surgery as President-Elect of the 12,000 member organization in August 2014. She is the third woman and the first person of Indian descent to hold that office. She served as President from 2015 to 2016 and is currently Immediate Past President. She previously served as Chair of the AAO-HNS Board of Governors.
Dr. Chandrasekhar attended medical school at Mount Sinai School of Medicine in New York City, graduated at the age of 22, and completed her residency in Otolaryngology-Head and Neck Surgery at New York University Medical Center in New York. She then completed her fellowship in Otology and Neurotology at the House Ear Clinic and Institute in Los Angeles, California. She served on the full-time academic faculty of both UMDNJ-New Jersey Medical School and Mount Sinai School of Medicine before entering private practice in New York City in October 2004. She is currently Director of New York Otology, Director of Neurotology at the James J. Peters Veterans Administration Medical Center, Otologist/Neurotologist at the New York Head and Neck Institute, Clinical Professor at Hofstra-Northwell School of Medicine, and holds staff privileges at several NY/NJ hospitals. As such, she is at the clinical forefront in management of disorders of hearing, balance, tinnitus, facial nerve, and lateral skull base, as well as cochlear and Baha implants. She is the medical director of the Vestibular Disorders Evaluation Clinic at the Bronx VA Hospital, a multidisciplinary team to rapidly and thoroughly assess and treat patients, especially those returning from active duty, with complex dizziness disorders, and is developing the Comprehensive Balance Center at Lenox Hill Hospital/Manhattan Eye Ear and Throat Hospital.
Dr. Chandrasekhar's career interests include hearing loss, tinnitus, vertigo, skull base tumors and temporal bone histopathology. Since 1990, she has published several papers, monographs, and book chapters in otology/ neurotology and otolaryngology. She published a landmark paper on sudden hearing loss, was vice-chair of the Academy Clinical Practice Guidelines (CPG) on Sudden Hearing Loss, chair of the Thyroidectomy: Improving Voice Outcomes CPG, and a methodologist on the Tinnitus and Adult Sinusitis CPGs and for the AAO-HNSF. Her research on intranasal surfactant for otitis media and Eustachian tube dysfunction is ground-breaking. She has built on that research to develop a company to commercialize the use of intranasal surfactant for OM and ETD. The company has FDA approval to start clinical trials. She is a reviewer for several Otolaryngology journals and is Consulting Editor, Otolaryngologic Clinics of North America.
She has also written on, and is funded for, gender research in otolaryngology. Dr. Chandrasekhar was honored with the AAO-HNS's Distinguished Service Award in September 2006 and 2012, with the Helen Krause Trailblazer Award from the AAO-HNS Women in Otolaryngology Section in 2012, and with the Physician Mentor Recognition Award, American Medical Association Women Physicians Section in 2013. She is a contributor to the well-received "Being a Woman Surgeon" (P John, ed.) (2015) and to the medical site KevinMD.com (2016). She has spoken extensively on Leadership to various medical groups.
She has mentored several undergraduate and graduate medical students as well as residents, in clinical and research situations in Otolaryngology. As a result of her guidance, many poster and podium presentations have been given at regional and national meetings, and many publications have ensued.
Her other main interest is in humanitarian and international outreach. She has led five groups of practitioners on medical/surgical missions to Nicaragua, and has delivered lectures in India, Brazil, Mexico, Colombia, Venezuela, Costa Rica, Italy, Turkey, United Kingdom, Japan, Cuba, and Canada.