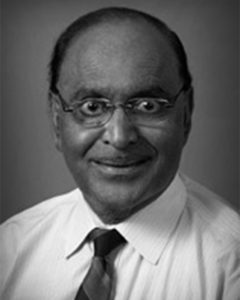 Dr. Surya Vishnubhakat Murthy
Dr. Murthy was born in India in the small and scenic town of Kanker. He enjoyed a wonderful childhood there with his parents and six siblings, many of whom are also physicians. Following completion of his college education in the city of Indore, he entered medical school in 1962 and successfully completed his MBBS. After he finished his thesis titled "Genetic Variation of Isoniazid Metabolism in the Indian Population and Outcome of Tuberculosis," he earned his Doctor of Medicine (MD) and migrated to the United States in 1972. He completed his internship in Internal Medicine and then trained in Neurology at Cornell University Hospital under the tutelage of Doctors Fred
Plum, Jerome Posner, and Richard Beresford. He joined North Shore University Hospital and has remained with the institution to date. He also trained with Dr. Peter Tsairis in clinical neurophysiology at the Hospital for Special Surgery.
Dr. Murthy established his first electromyography lab at North Shore University Hospital in 1976 and the first evoked potential lab in 1979. He was the first to establish the neuro-oncology program in 1976 through 1986 for the treatment of malignant glioma under the NIH sponsored BTSG protocols headed by Dr. William R. Shapiro. He however remained dedicated to clinical neurophysiology and started neuromuscular and EMG fellowship training programs followed by clinical neurophysiology fellowship training. To date, he continues to direct the clinical neurophysiology fellowship training program.
Dr. Murthy is currently Vice Chair of the Department of Neurology for the North Shore LIJ Medical Group, the Associate Professor at the Hofstra Medical School, Director of Clinical Neurophysiology and Senior Attending Neurologist at North Shore University Hospital. Dr. Murthy takes pride not only in being a neurologist and neurophysiologist, but also in being a devoted teacher, husband and father. He has been blessed with a dedicated
wife, three loving children, and two beautiful grandchildren. He enjoys music, traditional Indian literature, history and most of all, the company of his friends. He finds that there is nothing more wonderful in life than to have good friends, a loving family and the ability to teach and to continuously learn. Learning is a lifelong business.
Message:
Among the trials and tribulations that life presents, the ultimate truth that I have realized
is the importance of love and the duty to society and family. In our profession, that love
and dedication is expressed by caring and healing the body and mind.
Honoree