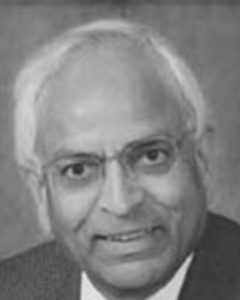 Dr. Kanti R. Rai
Kanti R. RaL MD was born in Jodhur, India and received his medical education in Jaipur, India. After residency training in pediatircs and Fellowship in Hematology and Nuclear Medicine in hospitals in New York, he joined the Hematopoietic Cell-Kinetic research team led by Dr. Eugene Cronkite at the Brookhaven National Laboratory in Long Island, N.Y. Interest in the study of Lymphocyte Biology and in Chronic Lymphocytic Leukemia (CLL), soon followed in the early 1960s, with collaboration with his two mentors, Dr. Cronkite and Dr. Arthur Sawtsky. This collaboration led to the development of the system of clinical staging of CLL.
Dr. Rai has continued to remain in the forefront of research in the studies of natural history of CLL improving prognostic features and in the development of newer strategies of therapy which are hypothesis driven. Dr. Rai is an active investigator in the Chronic Lymphocytic Leukemia Research Consortium (CRC), the International Workshop on CLL (IWCLL) and Cancer and Leukemia Group B (CALGB).
He is a member of the American Society of Clinical Oncology (ASCO), American Association for Cancer Reserarch (AACR) and the American Society of Hematology (ASH). In 2006, Dr. Rai served as the President of ASH. He is Joil Finkelstein Cancer Foundation Professor of Medicine, and Professor of Molecular Medicine at the Hofstra North Shore LIJ School of Medicine at Hofstra University.
MESSAGE
I have been a proud member of the American Association of Physicians of Indian Origin (AAPI) for several decades. I have watched with pleasure how AAPI has grown over these several years and today represents more than 60,000 physicians and a large number of younger colleagues who are in residency and fellowship programs. The leadership of AAPL both at national level as well as local chapter level, deserves our thanks for steering this organization in a meaningful direction, so that today, it stands for professional excellence, education and charitable activities.
Our own Queens and Long Island area happens to have some of the most outstanding physicians of Indian origin who also are socially motivated, interested to serve persons who are disadvantaged and try to deliver them medical care without considering their country of origin and financial status. We also are proud of the research output of AAPI members from this region of Queens and Long Island which clearly demonstrates that we are active in all aspects of our profession: clinical care, education, research and social service
I feel appropriately humble to be honored, today, along with my friend and colleague, Dr Dattatreyudu Nori, by AAPl-QLI.